PERSIAN RUGS GALLERY 2:
[Antique Persian Rugs] [FLORAL RUGS 9] [Furniture galleries] [6010 Stevenson BLVD-109.htm] [Coat Racks] [Modern Rugs 8] [AREA RUGS #10] [Persian Rugs Gallery 1] [Black Sofa Bed.htm] [Bed Set Sofabed] [Payless Rugs 1] [Room Dividers] [Persian kelims gallery] [Miscellaneous] [Runners Gallery] [Bar Stools.] [Futons and Sofa Beds] [Ower Sized Rugs Gallery] [Chinese Rugs Gallery] [Metal Bed Fram] [Dining Set] [BED ROOM SET] [5Recliner] [Machin Made Rugs]
Please click your desired picture to enlarge or click our E-mail address, to ask for description. (After viewing, right click on your mouse, then click Back option, to return this page.) How to buy Rug ?
TABRIZ

Code: T22749-JG20-50

Name: Tabriz. Origin: Tabriz/Iran. Background color: Red. Boarder color: Dark/Blue. Knot/SqInch:300. Sise: 10'2"x6'7". Age: 40 years. Code: T22749-JG20-50. Suggested price $5630. Our price: $3790. sale@rugonsale.com

KASHAN

Code: K27426-MA7

Name: Kashan. Origin: Kashan/Iran. Background color: Cream. Boarder color: Grey. Sise: 12'5"x8'2". Age: 50 years. Code: K27426-MA7. Suggested price $4000. Our price: $2590. sale@rugonsale.com

TABRIZ

T22749-JG8-40

Name: . Origin: Tabriz/Iran. Background color: Cream. Boarder color: Brown. Sise: 11'x8'3". Knot count: 250/Sq/inch. Age: 50 years. Code: T22749-JG8-40. Suggested price $4300. Our price: $2790. sale@rugonsale.com

MAHAL

Code: M2425-MA34

Name: Mahal. Origin: Mahal/Iran. Background color: Cream. Boarder color: Red. Sise: 12'2"x9'8". Age: Semi/Antique. Code: M2425-MA34. Suggested price $4300. Our price: $2690. sale@rugonsale.com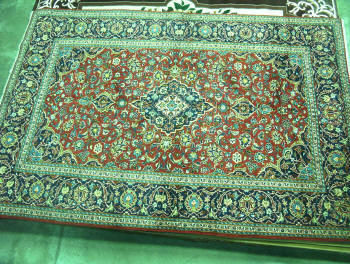 Name: Yazd. Origin: Kashan Design/Iran. Background color: Red. Boarder color: Dark Blue. Knot/SqInch: 100. Size: 10'1"x7'1". Age: 30 years. Code: Y293-00143G. L.. Suggested price $2800. Our price: $680. sale@rugonsale.com
Go to: Rug gallery 3 Back to: Rug gallery 1 Collection Antique Kelims Semi-Antique